Band horizontal Pallof Press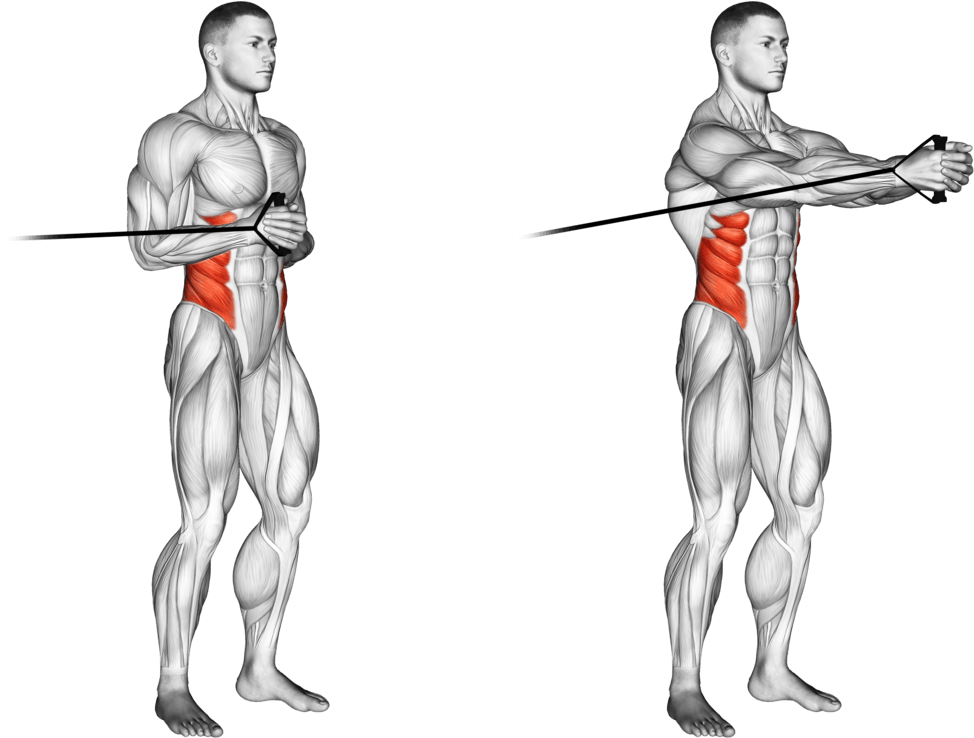 The Band Horizontal Pallof Press is a fantastic exercise that targets your core and stability muscles. It is a variation of the traditional Pallof Press, but with the added resistance of a resistance band. This exercise is highly effective in strengthening your core, improving balance, and enhancing overall athletic performance. To perform the Band Horizontal Pallof Press, you'll need a resistance band securely anchored to a sturdy object at waist height. Stand perpendicular to the anchor point with your feet shoulder-width apart. Hold the band with both hands in front of your chest, and step away from the anchor point until you feel tension on the band. From this position, engage your core and maintain an upright posture as you extend your arms directly in front of you. Keep your hands at chest height throughout the movement, and resist any rotational forces pulling you towards the anchor point. Hold the extended position for a brief moment before slowly returning to the starting position. This exercise primarily targets your obliques, transverse abdominis, and other deep core muscles. It helps to develop better postural control, improve sports performance, and reduce the risk of injury in daily activities. Plus, using a resistance band adds an element of instability, challenging your core even more. Incorporate the Band Horizontal Pallof Press into your workout routine as an excellent way to strengthen your core and improve stability. Remember to maintain proper form, breathe consistently throughout the exercise, and gradually increase the tension of the resistance band as your strength improves. By consistently performing this exercise, you'll notice enhanced functional fitness and a more powerful core.
Instructions
Stand with your feet shoulder-width apart and loop a resistance band around a sturdy post at about chest height.
Holding onto both ends of the band, extend your arms straight out in front of your chest, keeping your shoulders down and your core engaged.
Take a step away from the post, creating tension in the band.
With your arms fully extended, slowly rotate your torso away from the post, maintaining tension in the band.
Pause at the end of the movement, feeling the contraction in your core and obliques.
Return to the starting position by rotating your torso back towards the post.
Repeat for the desired number of repetitions, then switch sides.
Tips & Tricks
1. Start with a tension resistance band that challenges your strength but still allows for controlled movement and proper form.
2. Focus on maintaining a strong core throughout the exercise by engaging your abs and bracing your torso.
3. Control the movement by slowly pressing the band away from your body and equally resisting the band as you bring it back towards your chest.
4. Pay attention to your posture by standing tall, keeping your shoulders down and back, and avoiding excessive forward or backward leaning.
5. Gradually increase the resistance of the band as you become stronger and more comfortable with the exercise.
6. Experiment with different band placement positions, such as positioning the band at chest height or waist height, to target different muscles and challenge different movement patterns.
7. Breathe steadily and avoid holding your breath throughout the exercise to ensure proper oxygenation and prevent unnecessary tension in the body.
8. Incorporate the Band Horizontal Pallof Press into a well-rounded workout routine that includes other core strengthening exercises, upper body exercises, and full-body movements.
9. Consult with a fitness professional or trainer to ensure proper technique and form to prevent injury and maximize the benefits of the exercise.
10. Fuel your body with a balanced diet that includes an adequate amount of protein, carbohydrates, and healthy fats to support muscle growth, recovery, and overall health.