Barbell Seated Overhead Triceps Extension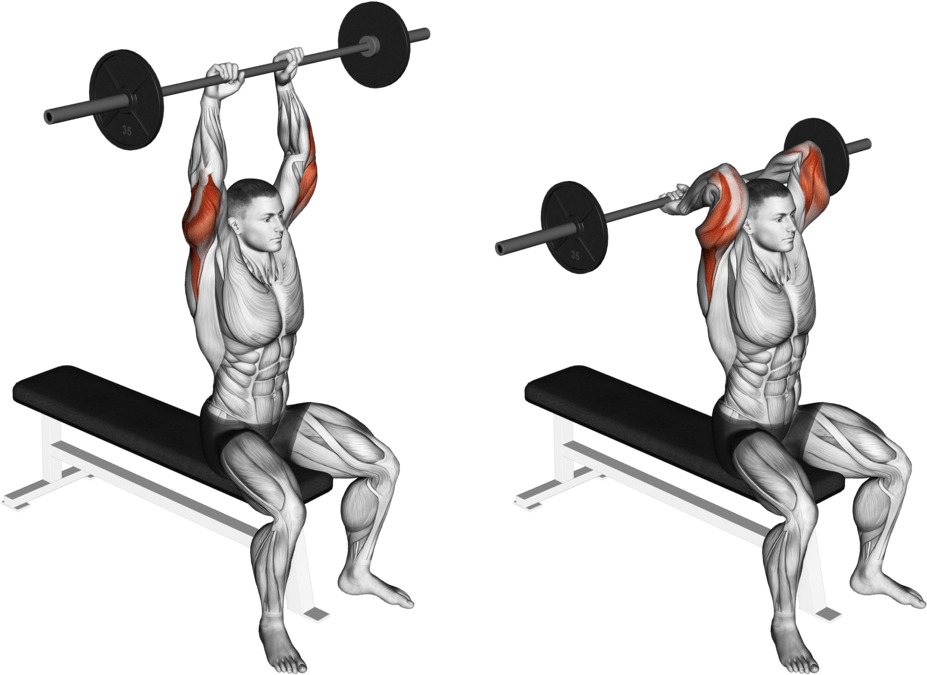 The Barbell Seated Overhead Triceps Extension is a popular exercise that targets the triceps muscles, located at the back of your upper arms. This exercise is often performed using a barbell, but it can also be done with dumbbells or an EZ bar. The seated position helps stabilize your body, allowing you to focus solely on isolating and strengthening your triceps. By extending your arms overhead and lowering the weight behind your head, you engage the long head of the triceps, emphasizing its development. This exercise also recruits the lateral and medial heads of the triceps, resulting in overall improvement in strength and muscle tone. Including the Barbell Seated Overhead Triceps Extension in your workout routine can be beneficial for various reasons. Strengthening your triceps helps improve your pushing movements, such as bench presses and shoulder presses, as the triceps act as synergistic muscles in these exercises. Furthermore, well-developed triceps can also enhance your overall arm aesthetics. To get the most out of this exercise, it's important to ensure proper form and technique. Remember to use a weight that challenges you but allows you to maintain control throughout the movement. Avoid swinging or using momentum to lift the weight, as this can put unnecessary stress on your joints and limit the effectiveness of the exercise. Focus on a slow and controlled movement, maintaining tension in your triceps throughout the entire range of motion. As with any exercise, it's essential to listen to your body and adapt the exercise to your fitness level. If you experience any discomfort or pain during the Barbell Seated Overhead Triceps Extension, consider consulting with a fitness professional to ensure you're performing it correctly. Happy training and enjoy the benefits of strong, sculpted triceps!
Instructions
Sit on a bench with your back straight and feet flat on the floor.
Hold a barbell with an overhand grip above your head so that your arms are fully extended and perpendicular to the floor.
Lower the barbell behind your head by bending your elbows, while keeping your upper arms close to your head and your elbows pointing forward.
Pause for a moment at the bottom of the movement, then extend your arms back up to the starting position.
Repeat for the desired number of repetitions.
Tips & Tricks
Start with a weight that is challenging but allows you to maintain proper form throughout the exercise.
Engage your core muscles and maintain a stable seated position throughout the movement.
Keep your elbows close to your head as you lower the barbell behind your head, ensuring a full range of motion.
Exhale as you extend your arms back to the starting position, squeezing your triceps at the top of the movement.
Avoid using excessive momentum or swinging to move the weight - focus on controlled, deliberate movements.
Remember to warm up properly before performing this exercise to prevent injury and optimize performance.
To increase the difficulty, you can try using an EZ bar instead of a straight barbell.
Consider incorporating different grip variations, such as pronated or neutral grip, to target your triceps from different angles.
Don't neglect the importance of rest and recovery - allow your muscles adequate time to repair and grow between workouts.
Monitor your progress and gradually increase the weight or reps over time to continue challenging your triceps muscles.